From RIC WINDS February 15 issuance
This time "more intellect! We extract corner of Rokko Island.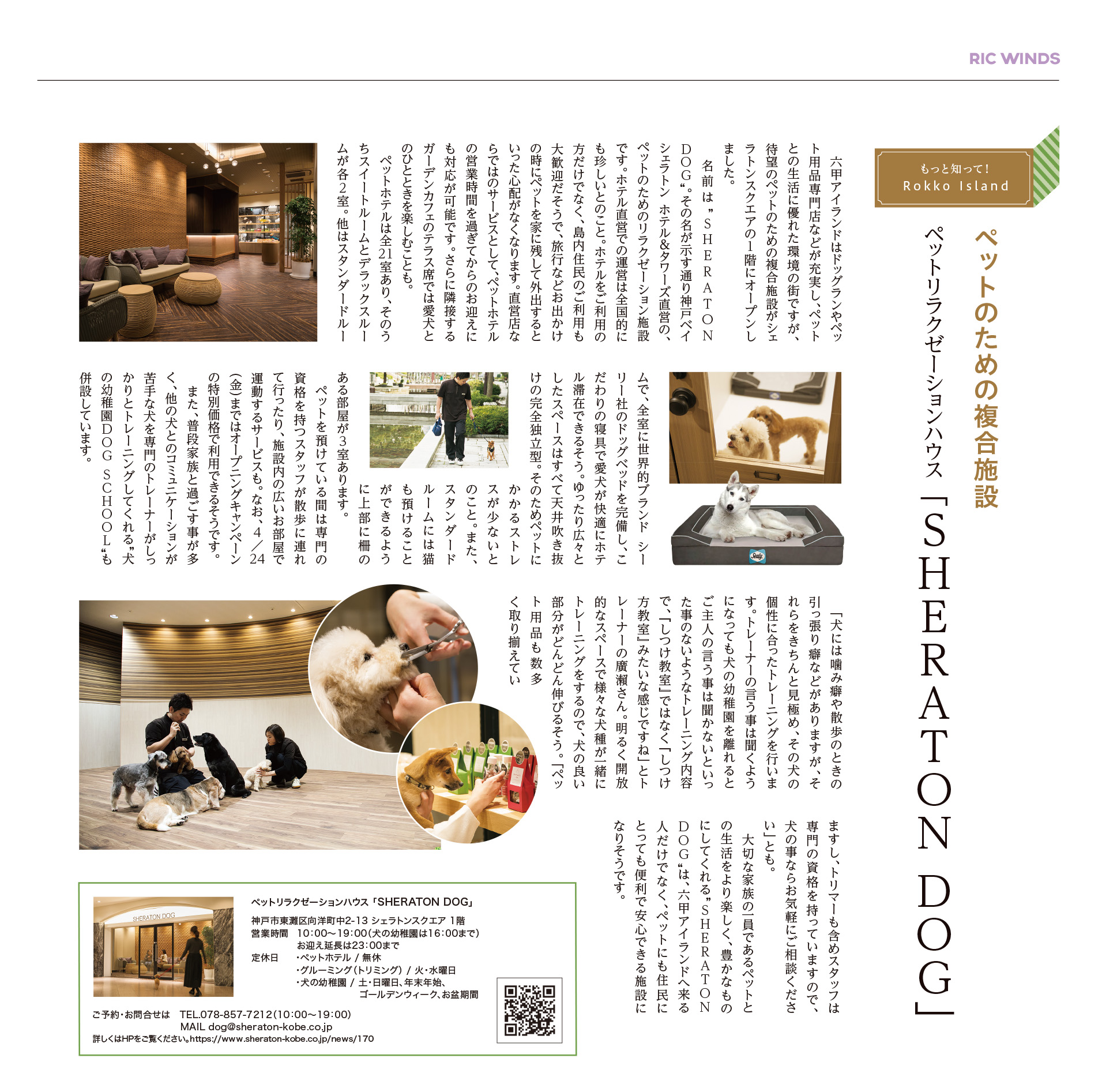 Compound facility pet relaxation house "SHERATON DOG" for pet
 Stores specializing in dog orchid and pets goods were enriched, and Rokko Island was environmental town superior in life with pet, but compound facility for long-awaited pet opened on the first floor of Sheraton square.
 The name is "SHERATON DOG ". It is relaxation facility for pet of the Kobe bay Sheraton Hotel & towers direct management as the name shows. Administration by the hotel direct management seems to be rare nationwide. That not only the use but also the use of Shimauchi inhabitants seems to be welcome at hotel, and when trips go out, leave pet for house, and go out; we come to do not have to worry. Correspondence is possible for person sent to meet after it is past business hours of pet hotel as service only in shop. As for enjoying a time with pet dog at terrace seat of further adjacent garden cafe.
 Pet hotel is all 21, soon suite and for each two deluxe rooms. Others are fully equipped with dog bed of world-famous brand Seelye Corporation in all rooms in standard room, and is discerning bedclothing; pet dog comfortably Hotel; seem to be able to stay. All the spacious extensive space is full independence types of ceiling colonnade. Therefore there seems to be little stress to depend on pet. In addition, there are three rooms with fence in the upper part to be able to leave cat into standard room.
 As for the service that the staff with specialized qualification takes to walk with him/her while we leave pet and exercises in wide room in facility. In addition, it seems to be available with special price of opening campaign until Friday, April 24.
 In addition, we usually often spend with family, and specialized trainer adds dog weak in communication with other dogs to kindergarten DOG SCHOOL " of "dog training well.
 "Dog has pulling habits at the time of habit of biting and walk, but we make sure of them properly and perform training that was correct in individuality of the dog. Saying, by training contents that it has not been said that do not hear that the master says that leave kindergarten of dog even if come to hear that say of trainer, seem to be like "method of teaching manners classroom" not "discipline classroom"; as for saying is; *瀨 of trainer. As various dog species train together brightly in opening-like space, good part of dog seems to grow more and more. As for "please consult casually as we have a lot of pets goods, and the staff has specialized qualification including trimer if it is dog".
 Is convenient for inhabitants, and not only people coming to Rokko Island as for "SHERATON DOG " getting which is rich by life with pet which is member more happily in important family but also pet can be relieved; seem to be provided equipment.
Pet relaxation house "SHERATON DOG"
2-13, Kouyochonaka, Higashinada-ku, Kobe-shi Sheraton square the first floor
Business hours 10:00-19:00 (in the kindergarten of dog until 16:00) ※Meeting extension until 23:00
Regular holiday
・Pet hotel/no rest
・Grooming (trimming)/Tuesday and Wednesday
・Kindergarten/Saturday and Sunday, New Year holidays, Golden Week of dog, tray period
Make a reservation; inquiry TEL.078-857-7212 (10:00-19:00)
MAIL dog@sheraton-kobe.co.jp
For more details, please see HP. https://www.sheraton-kobe.co.jp/news/170