On the other day, taking a lunch break rest nidoooooooooshitemo, sweets eat and cook…
Shall we be going to have convenience store sweets? Shall we be going to have snack cake?  After parading around one distress and Shimauchi in this…
(as I am working, I am limited for break and I am dieting)
Anyway, in being going to decide lunch, and takeout doing Chinese lunch in "Sheraton Marchais."
(dieting)
And…Luck yokuka where we have come across, luck bad kuka (buhi)…
So! There is cake! !!
We used habitually occasionally, but completely always forgot.
We shined, and this was attracted by cake which we saw and bought…. It is rich from noon.
Eat up Chinese lunch in no time triumphantly, hand to cake………. (dieting)
"In no time…"oishi! ! ……But…  It is different what it is….
No, it was delicious, but ate with spoon with my, box opening out. (please see photograph)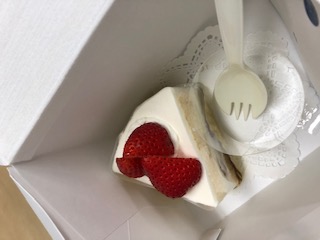 After all, it is a shame when we do not eat cake with tea on dish properly.
You should have eaten rich lunch properly with much effort…. Though it dazzled that much, brightness is already lost….
We eat remaining cake silently…   Furthermore, we gained weight.
With some kind of TV "meal is the working of the life…The number of times is limited. We said, you must not compromise with limited our one meal (probably drama)
That's right! !  We need the next time with delicious tea on clean dish.
Okay! Revenge!  (dieting)
※All the cake of Sheraton Marchais is delicious!